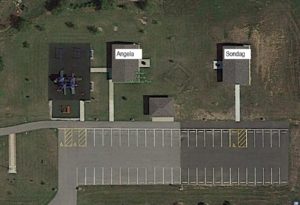 730 Rogers Street
Waterloo, Illinois 62298
The William Zimmer Memorial Park was opened in May of 2013. The first phase of the park has been completed. The park contains a playground, a restroom, and a covered pavilion that is available for group picnic use. The pavilion has running water and electricity and a barbecue pit nearby. The pavilion can be reserved for a nominal fee, (See the Pavilions page).
William Zimmer Memorial Park Pavilions
Angela – Approximately 60 person capacity, 10 6′ tables, 2 8′ serving tables, 1 grill.
Sondag – Approximately 60 person capacity, 10 6′ tables, 2 8′ serving tables, 1 grill. (New in 2017)