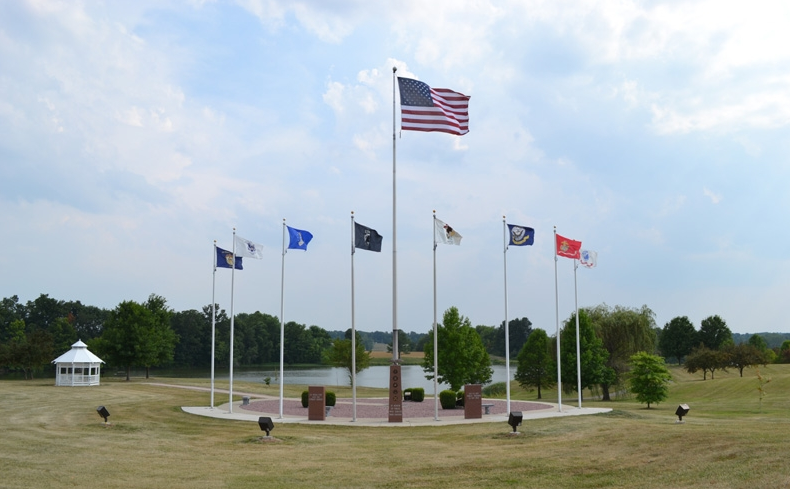 Veteran's Memorial Lakeview Park
Lakeview Drive
Waterloo, IL 62298
Lakeview Park is located off Lakeview Drive southwest of Waterloo and is comprised of about 100 acres. The park has a 2.25 mile paved walking trail, modern playground equipment, a Dog Park, Pickleball Court and three large lakes that are open for fishing. A fishing license is required at the park.
Two covered pavilions are available for group picnic use. The pavilions have running water and electricity, barbecue pits and restrooms nearby. These pavilions can be reserved for a nominal fee. (See the Pavilions page)
Lakeview Park also has a Gazebo that can be rented for weddings. See the Pavilions page)
Lakeview Park Pavilions
IOOF – Approximately 74 person capacity, 1 8′ tables, 11 6′ tables, 2 8′ serving tables, 1 grill.
Sewing – Approximately 72 person capacity, 12 6′ tables, 2 8′ serving tables, 1 grill.
Gazebo – The gazebo can be reserved for wedding ceremonies and pictures.
The Veteran's Memorial Fund was established in 2005 to honor war casualties and all veteran's. Donations are accepted for the Monroe County Veteran's Memorial, which is located in Lakeview Park near the flag pole and gazebo. The Veteran's Memorial also contains the Veteran's paver project. Pavers can purchased to serve as perpetual symbols in which individuals and families can recognize and honor Veteran's of all branches of military service.
In 2016 a new feature in the park will be a Dog Park to allow dogs to run off leash in an enclosed area.
Dog Park Rules
Lakeview Park Maps (Click to see a larger image)